Cosmetic Dentistry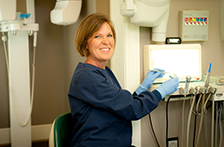 You can look good and have a healthy smile, too! Cosmetic dentistry can solve a variety of common problems that may be standing in your way: crooked teeth, gaps between teeth, stained teeth, chipped teeth, and more. With a customized treatment plan from Brooks Dental, you can look and feel confident, healthy, and youthful. Dr. Brooks will create a plan for you based on your age, goals, and financial needs. With a wide array of advanced cosmetic options, your smile can look amazing in as little as one visit!
Porcelain Veneers
Most smile makeovers you see on television are created using porcelain veneers. In the hands of a skilled cosmetic dentist like Dr. Brooks, veneers can transform misshapen, broken, and discolored teeth into the most beautiful smiles possible. Veneers are a conservative dentistry approach that can make dramatic changes in your smile. Often, porcelain veneers provide a completely improved and dazzling smile in just a few appointments.
Tooth Whitening (At-home)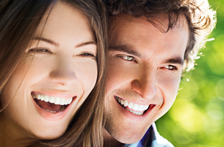 You can have the confidence that comes from a bright, white smile. Even if you are satisfied with the alignment and spacing of your teeth, a take-home tooth whitening treatment from Dr. Brooks may be the last step to perfecting your smile. This home tooth-whitening kit, customized by Dr. Brooks, is safe, effective, and long-lasting.
Your custom kit involves a special tray made to fit over your teeth. Dr. Brooks will give you a detailed plan for inserting the prescription whitening gel into the tray before you wear it. Along with your tray, you will receive expert advice about how long you should wear the tray each day. The process will take between two and four weeks and will leave you with a dazzling smile.
Porcelain Bridges
When teeth are missing, your smile undergoes significant changes. Missing teeth cause you to chew differently and may cause mouth pain. And, as your remaining teeth work to compensate for the loss, gaps and spaces can form that only make the situation worse. A porcelain bridge, custom designed by Dr. Brooks, keeps your smile aligned and your bite functional.
Dr. Brooks will anchor the bridge to existing teeth or crowns on either side of the missing tooth. Bridges are semi-permanent, meaning they can only be affixed or removed by a dentist. The results are a long-term restorative solution to your damaged smile.
Porcelain Crowns
Teeth undergo a tremendous amount of wear and tear during one's lifetime. Teeth may show this wear in a variety of ways, including discoloration, chipping, and cracking. Crowns restore your teeth and your smile to look brilliant once again.
Tooth-like porcelain crowns are a durable solution for restoring your teeth and can be shaded to match your other teeth. After some tooth preparation, crowns are specially fitted to restore the look and functionality of your smile.
Tooth-colored Fillings
With advancements in dentistry, you can now have tooth-colored fillings instead of silver fillings. After Dr. Brooks removes the decay from the tooth, he will replace it with filling material. In the past, amalgam (silver) fillings were placed into the cleaned out portion of the tooth. With tooth-colored fillings, your natural smile is preserved as your risk for further decay is minimized.
Bonding
Bonding is a tooth-colored material applied and adhered to the surface of the tooth, often without reducing the structure of the tooth. Dr. Brooks then sculpts the bonding material to resemble a natural tooth, correcting chips, broken, stained, or discolored teeth and even correcting gaps.