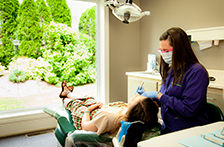 Restorative Dentistry
Your smile today may not be as brilliant as it once was. Years of wear and tear, injury, or poor care can hurt the look and function of your teeth. With restorative dental procedures, Dr. Brooks and his team change lives every day. Talk to Dr. Brooks and your dental team about how to rejuvenate your smile!
Dental Implants
A dental implant can be used to restore a single tooth or an entire set of teeth. Dr. Brooks will place a surgical grade titanium post directly into the jawbone. As the bone bonds to the post, it forms a secure foundation for the attachment of a custom dental prosthetic. While typical dentures shift, requiring the use of denture adhesives to keep them in place, implants fit solidly, reducing the problems associated with traditional dentures, such as gum sores and difficulty speaking and chewing.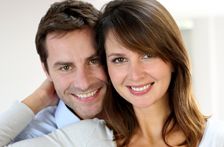 Implant-supported Dentures
You can replace an entire set of teeth with beautiful, natural-looking implants. Implant-supported dentures distribute your biting pressure more like natural teeth than traditional dentures, stimulating the supportive structures of your teeth and preventing the bone and soft tissues from shrinking away. Ask us if your smile could benefit from implant-supported dentures.
Dentures
Missing teeth can cause a whole host of problems for your dental health and for your overall wellbeing. Your ability to speak correctly and to chew the foods you love goes a long way in ensuring your self-confidence. Keeping your natural tooth function helps prevent the breakdown of the bone and other supportive structures of your jaw.
If you want to restore your smile with dentures, Dr. Brooks will ensure a natural looking smile and a perfect fit. A proper fitting set of dentures is very important, as a good fit ensures that your dentures will allow you to retain much of your mouth's function. Your custom-fit dentures from Dr. Brooks will keep you looking and feeling healthy.
Partial Dentures
A partial denture will provide you with a natural-looking way to restore your smile to its original beauty. A partial denture, customized by Dr. Brooks will restore gaps in your smile due to missing teeth that cannot be corrected by a bridge. These partial dentures are removable and are made from a synthetic material supported by lightweight metal that mimics your gum tissue and teeth to give you a brilliant, new smile.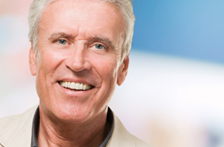 Crown
Teeth undergo a tremendous amount of wear and tear during one's lifetime, and they may show this wear in a variety of ways, including discoloration, chipping, and cracking. Crowns restore your teeth and your smile to look brilliant once again. While crowns have traditionally been made of precious metal, porcelain crowns can be made out of porcelain pressed to metal or porcelain throughout and can be shaded to match your other teeth. After some tooth preparation, crowns are specially fitted to give you back the look and functionality of your smile. If you have pain or temperature sensitivity when chewing, ask Dr. Brooks if crowns are an option.
Bridges
A bridge from Dr. Brooks can literally "bridge the gap" in your smile. With a lifelike, functional bridge to correct your smile, your bite will be restored, alleviating your discomfort. After some preparation of the two neighboring teeth, Dr. Brooks will begin by creating crowns for them. He will then fuse a prosthetic tooth between the crowns to fill the gap. A semi-permanent dental restoration, bridges can only be removed by a dentist, so you can rest assured that it will be a lasting restoration to your oral health.
Inlays/Onlays
Sometimes effectively removing tooth decay requires the removal of a portion of your tooth. The removed portion is replaced with a porcelain inlay or onlay. Dr. Brooks will customize an inlay or onlay to fill the space left behind when part of your tooth is removed. Traditionally, inlays and onlays were made out of metal, much like traditional fillings. Now, porcelain-milled inlays and onlays are virtually indistinguishable from natural teeth and provide relief from chewing pain, cavity pain, and tooth degeneration.